PseudoNympho – Eponym (Bunnysnot Records)
Posted by
vibrations
on 05-09-13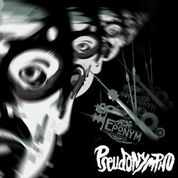 What a peculiar album.
PseudoNympho describe themselves as 'Rock/Prog/Grunge/Metal', which is accurate in that all those genre are present in their songs. But there's not much attempt to fuse these into some kind of unified, unique style; the band swing from one to the other without much apparent logic, often within the same song. Don't get me wrong, nothing gets me going like a good old genre mash-up, but this approach is just compartmentalisation. There isn't even the safety of irony to plead – the two styles the band toggle most frequently between are 70's US AOR and 80s death/thrash metal, and unfortunately most of the songs (especially 'Buried Alive', 'Big Enough For Rehab' and 'Matryoshka' ) fall victim to the humourless posturing that characterised those styles. When the band get it right, though, they can be impressive: 'Educate Yourself' is driven by a compact, surging rhythm and wah-wah guitar and is the best track on the album by far, and the closing 'Ugly Inside' may be steeped in 70s/80s metal but sounds like it's using old styles as a launch pad rather than just re-treading them.
The weirdest thing about this album though are the five short musical vignettes scattered around the album that utilise music concrete, cut up and collage techniques to produce what can only be described as Avant garde experimentalism. For example: the one minute opener 'Apotheosis' is a jittery, moody collage of tribal drums and electronics; the 48 seconds of 'Lunch' alternates between languid 70's blues guitar and pummelling grindcore; and 'The Air is thick with a Palpable Miasma of Willful (sic) Ignorance' is music concrete made up of the sounds of a photocopier, an acoustic guitar and field recordings of speech, traffic noise, industrial rumbling and a police siren. They sound like they have been created by a completely different band and are infinitely more interesting and entertaining than the rest of the album.
What a peculiar album.
Steve Walsh
More info at http://pseudonympho.co.uk/