Supersonic Festival @ The Custard Factory, Birmingham
Posted by
vibrations
on 04-12-11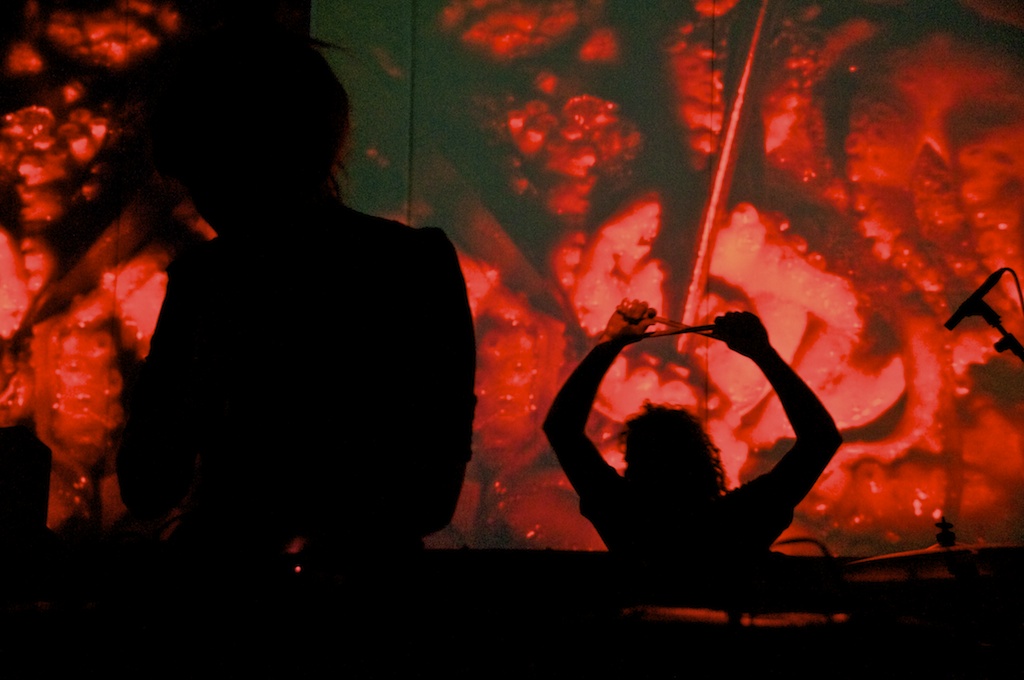 Monarch go dark and heavy. Photo by Greg Neate
Now in its ninth year, Supersonic Festival still hasn't shaken off the glib misconception that it's 'just' a 'metal' festival. In case you missed it, over the last 20 years metal has arguably become a diverse, multi-faceted crucible for musical creativity that's second to none. And not content with providing an annual showcase on the state of metal, organisers Capsule are quite content to chuck in plenty of folk, electronica and banging dance music to stretch the ears of your average modern metalhead. And you know what? Supersonic audiences are quite happy to soak it all up.
So, what we get at this year's festival ranges from Nathan Bell's wholly acoustic solo banjo and percussion, to heavy, pulsing hip hop from iconAclass, to Mike Watt and The Missingmen giving a non-stop 45 minute sprint through his latest 'rock opera', to Alva Noto's cooly bass heavy electro, to Electric Wizard's thrilling but unreconstructed sorcery and Satan metal. And the determination to include local bands, mainly from the fertile West Midlands, guarantees that there will always be a handful of brand spanking new bands to discover.
That's not to say that everything's utterly wonderful, of course. With such a wide a variety on offer it's hardly surprising that some of it falls a bit flat. Slabdragger and Selfless offer worthy but dull takes on different shades of metal; the solo amplified and endlessly looped violin of Agathe Max makes a pleasing noise but doesn't exploit itself to any effective degree; William Bennett's much lauded Cut Hands project just sounds plain dull to me; and veteran Finnish metallers Circle are just plain awful.
But it's the good stuff that Supersonic delivers like no other festival and there was plenty of that. Part Chimp didn't damage their reputation for ear splitting volume but the size of Stage 2 offered a chance to appreciate the fluid muscularity that lurks behind the din in their songs. The aforementioned Mike Watt had a busted and strapped left leg but his trio's rendition of Hyphenated-Man sprinted nimbly from start to finish taking in power, passion, restraint and laugh out loud joy along the way. Secret Chiefs 3 played their Eastern inflected prog with astonishing precision and verve, while Mick Harris' Scorn rattled the small hours with some typically dark and churning sub-bass, dubbed-up electronica. And that was just Friday evening…
Saturday's packed programme presented the real problematic clashes of the weekend and I probably missed as much good stuff as I saw. I don't usually go for pretty orthodox banjo playing but Nathan Bell's original tunes held a packed Old Library audience for forty minutes, proving once again that Supersonic audiences may mostly like their music loud, but they are unbelievably good listeners. Nottingham's Kogumaza are no strangers to Leeds and it was gratifying to hear their slow burning riff and feedback drenched electric guitar drones getting one of the biggest cheers of the entire festival. Discovery No. 1 of the festival was Birmingham's own Backwards, a drums, two basses and sax quintet fronted by a singer who adopts a wired and tense as fuck persona and delivers an almost contortionist like performance, using the mic stand like a weird kind of crutch and gesticulating bizarrely to illustrate the indecipherable lyrics. The music bounces between a relentless grind reminiscent of early Swans and flailing noise, but it's impossible to take your eyes off the singer. Electric Wizard have been around for much longer than Backwards and attract more punters. Although it's hard to take the bands songs seriously ("Help me Lucifer!" ), they play an absolutely ferocious set of red hot metal that teeters expertly between old school and more refined styles. And it's not every day you get lashed mercilessly by a headbanging punter's long blonde hair.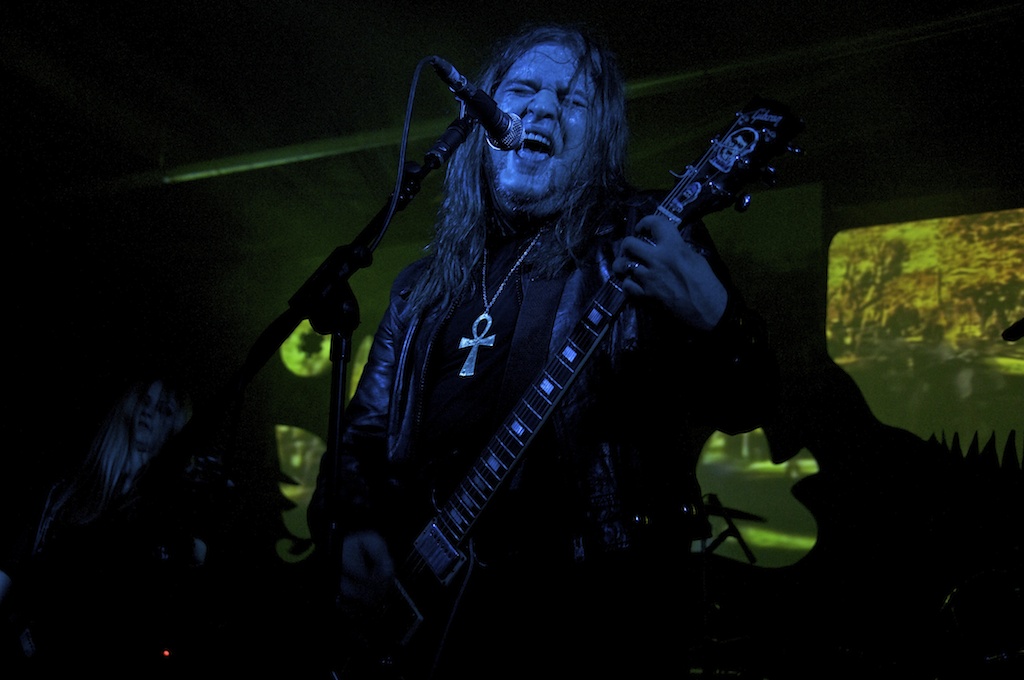 Jus Oborn of Electric Wizard. Photo by Greg Neate
Swedish experimental rock band The Skull Defekts bring things bang up to date by utilising the power and volume of rock and the more playful feel of funk and dance grooves to construct their artfully abstract songs. Saturday's programme comes to an end not with bang as such but with the implosive weight of the music of Monarch. The band use extreme volume applied to guitar generated bass frequencies and play 20 minute songs that move like frozen time. What seems like minutes elapse between drum beats and the occasional more rapid sequence of notes seem to nudge the song like a supertanker being turned at sea. The band's sound is gigantic, taking on almost mythical proportions, and the hum from the overdriven amps alone is deafening. Magnificent.
Sunday's line up was largely a mystery to me so potentially delightful surprises lay around every corner. The Custard Factory's small theatre hosted a performance by the amplified tuba duo Ore which as you can imagine featured layers of low bass drones that were adaptable enough for them to include a cover of an Earth song. A late addition to the line-up, Mike Hurley and the Birmingham Improvisers Orchestra provided the only wholly acoustic jazz of the weekend but managed to attracted a sizable crowd of the hung over and ear blitzed. With two drummers, three reed players, trumpet, trombone, bass and keyboards and effects the ensemble had a big engine but, as with all improvised music, expertly explored silence and quiet as much as dropping the blaring fanfare. And electric guitar drone and feedback duo Barn Owl filled Space 2 with gorgeous towers of sound.
Undoubted highlight of the day, though, were Fire!, the heavyweight Swedish jazz/improv/noise trio with Mats Gustafsson, saxophones, Fender Rhodes and electronics, Johan Berthling, electric bass and Andreas Werliin, drums and percussion. The trio often play with additional musicians and for this gig they were joined by Australian sound artist Oren Ambarchi on guitar, keyboards and effects. The band played a single, continuous piece that emerged from silence and gradually built up inexorably over layers of volume, noise and sheer intensity to a shattering finale. Exhausting and liberating.
Thereafter a series of bite sized chunks finished off my festival – Alva Noto's precise electronica beats; Drunk In Hell's crashing riff juggernaut; and White Hills livid and frazzled punked up psychedelia.
Supersonic is the one festival you can't afford to miss.
Steve Walsh
http://www.supersonicfestival.com/