Slamboree Are Smashing It!
Posted by
vibrations
on 31-10-14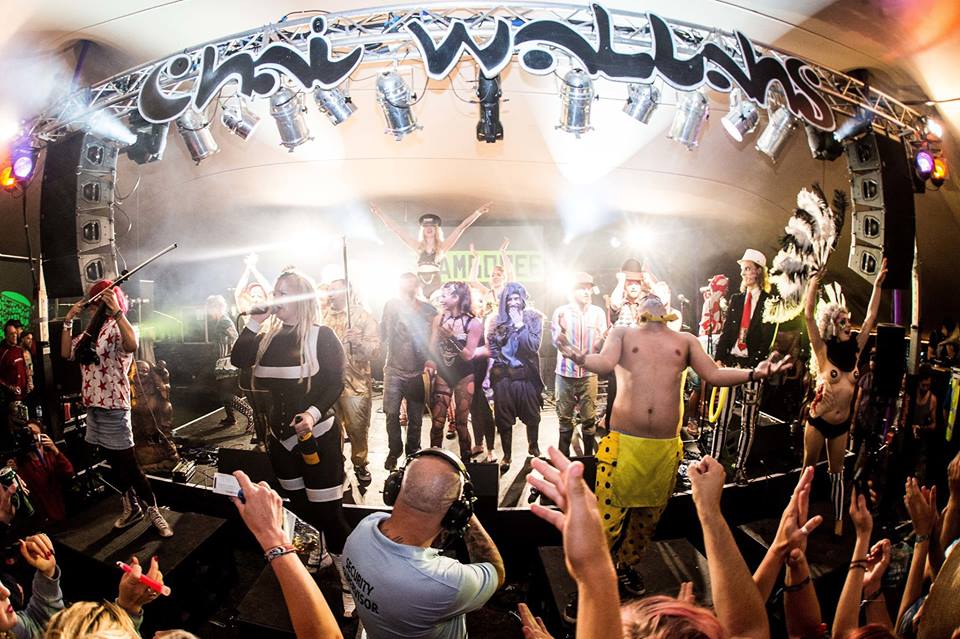 Unless you've been hiding under a rock, in a cave, up a big hill, on Mars for the last few years, Slamboree should need no introductions but for all you Martian troglodytes out there, we'll go over it one more time. As if combining a DJ and producer with an earth-shattering vocalist and a line-up of talented musicians wasn't enough, this 'pyro circus rave massive' also throws a troupe of performers into the mix, because… you just would if you could. So if your desire is to watch fire-jugglers, contortionists or a woman hammer nails into her face while you dance the night away, as gold-lamé clad booty dancers shower you with fairy-dust from champagne magnums (and let's face it, who doesn't desire that?), these guys really are your only logical option.
Hang on though. What's that you say? All's been quiet on the western front? Yes, dear reader, you are unfortunately correct. After gigging relentlessly and some of summer 2013's most memorable festival appearances, Slamboree ran away with their own circus in 2014, taking the show on the road and introducing our European cousins to their own special brand of immersive carnage. That's not to say that the pared down Slamboree Soundsystem didn't smash sets at Boomtown Fair and Secret Garden Party amongst others, but the full show has been a rarity. Well, now they're back!
With the full crew on board and toting a brand new show, Slamboree have some absolutely banging events lined up in the near future. This week alone, they have two lined up. The first, on All Hallow's Eve is the 'Sugar Skull Dance' at The Station in Bristol; be warned though, they're turning up mob-handed with partners in crime Odjbox and Mad Apple Circus. The former's intricate take on Funk, Glitch, Swing and Hip Hop has him standing out firmly against a pretty crowded pack and garnered him the UK Glitch Hop Awards 2014, Best DJ Award. While the latter are a nine-piece musical juggernaut fusing Jazz, Hip Hop, Ska and Reggae sounds with Big-Band Swing. Rosie Rokoko & The Weird Kid Collective will also be in attendance, taking over the club with zombie themed interactive theatre… I can't decide whether the choice of venue (actually a converted fire station) is some kind of omen or statement of intent after seeing the line-up but you'd best believe that it is going off!
The very next day, the unstoppable Slamboree will be in Cornwall, as Flambard's theme park is turned, for one night only, into Los Flambardos, for a Day Of The Dead spectacular. Alongside Night Motor and Ska stalwarts Babyhead, Slamboree will be rocking the Día De Los Muertos themed masked ball, filled with more than 100 actors from eight theatre companies, as well as The Lords Of Lightning (yes, those nutters that shoot electricity at each other!) ensuring a completely immersive environment. Appearing on stage alongside Slamboree will be a very special guest Isla Hull AKA, Your Highness from the Flight Club. And, for once, you can feel good about all the hedonism as these balls have, so far, raised more than £10,000 for charities including Surfers Against Sewage and the men's cancer charity 'Pants'. Everyone's a winner!
It almost seems cruel telling you all about these events however, as they both sold out weeks ago, sorry! You do still have the opportunity to get tickets for their massive date at London's Electric Brixton on the 15th of November. Tickets are selling out fast though so you'd best be snappy. If their current form is anything to go by, you'll be gutted if you miss this. Keep your eyes open for more details later down the line and we'll see you on the dancefloor!!!
Words: Benjamin Paul, Images: Tom Martin & Scott M Salt